Opinions are the author's and are not necessarily shared by Blogger, SDF, my employer or my family, but they should be.
---

This work is licensed under a Creative Commons Attribution 3.0 Unported License.
---

Blog home
Blog archives
Web home
Contact
Legend Consulting
Justin's blog
(not updated since Aug 2009)
---
---
---
Blogs and such
Media watch
News
Philly local
Politics, mostly
Technology
Other
e-mail lists
Media watch
Politcal and technical
Secrecy
Other
Results of 2 Nov 2004 General Election (winners in bold; click on office for more detail)
Tools
2005-03-31
Weapons of Mass Deception, redux
Steven Aftergood is the greatest. I can't recommend his Secrecy News highly enough. Two days ago, I posted his proposed questions for the WMD Commission. Today their report came out and Mr Aftergood reported on it. I must say that I have not read the report, but Mr Aftergood's comments sure have the ring of truth and fairness:
The Silberman-Robb Commission on WMD Intelligence released its massive report today, which featured blunt criticism of U.S. intelligence agencies and of nearly every aspect of the intelligence production cycle. A copy is posted here:



     http://www.fas.org/irp/offdocs/wmdcomm.html




"We conclude that the Intelligence Community was dead wrong in almost all of its pre-war judgments about Iraq's weapons of mass destruction," the Commission stated in its letter of transmittal to the President.



Contrary to some early media reports, the Commission did not absolve the Bush Administration of mishandling or misrepresenting intelligence on Iraq.





"We were not authorized to investigate how policymakers used the intelligence assessments they received from the Intelligence Community," the Commission Report said (page 8).





President Bush welcomed the report in a White House news briefing,
and commended its authors for presenting an "unvarnished" review.



     http://www.fas.org/irp/news/2005/03/wh033105.html




But then the President stated inaptly that "in an age in which we are at war, the consequences of underestimating a threat could be tens of thousands of innocent lives."



The whole impetus for the Commission was the fact that intelligence had *overestimated* the threat from Iraq, not underestimated it. Thousands of Americans and many more thousands of innocent Iraqis lost their lives or were seriously
injured as a result of the ensuing war.



And that, my friends, is by far the most important fact, IMHO. And that fact's consequences have done nothing if not decrease the security of the United State and all its citizens, not to mention that of the so-called Western World and its inhabitants.
Oxy moron
Anu Garg's A.Word.A.Day features the word oxymoron in today's issue (scroll to bottom of page to see entry for 31 March). I was moved to e-mail this comment to the author:



Date: Thu, 31 Mar 2005 16:22:43 -0500
From: "Hugh D. Hyatt" <hughhyatt@bluehen.udel.edu>
To:  anu@wordsmith.org
Subject: Re: A.Word.A.Day--oxymoron

At Occidental College (http://www.oxy.edu) several decades ago, my
friends and I observed that 

Oxy moron

 is itself an oxymoron.

BTW, as of this moment, http://www.oxymorons.info has a list of 895 them,
one of which is indeed 

Oxy moron

.




Mac attack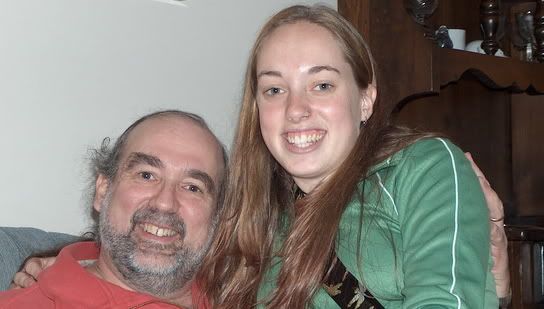 For the last few days, I've heard more about Macintosh computers than I've heard in many years. It's a resurrected or reborn meme. It all started Sunday, when my daughter mentioned that she had gotten a Powerbook. "Why didn't you tell me they were so much easier to use?" she asked chidingly. (Here's a picture of her minutes before — or was it after? — our brief discussion. Can you tell I've acquired a new digital camera? LOL!)
Then Tuesday, a colleague at work and I were discussing the relative merits of PCs and Macs, the only one we knew of favoring the former being cost. He mentioned in passing that OS X was nothing more than FreeBSD, which I had not known (I can't believe I'm admitting this publicly).


In another conversation that same day, this same colleague suggested that I might enjoying reading some of Paul Graham, of whom I don't remember knowing anything previously. That night he sent me a link to Graham's web site. The next morning I pointed my web browser there, and the first thing I read was his latest essay: Return of the Mac. It was quite an intriguing read. Why am I going to all this trouble to replace various versions of Windows with various versions of Linux on my PCs, when Apple has already put FreeBSD on the Mac? Good question!



All the best hackers I know are gradually switching to Macs. My friend Robert said his whole research group at MIT recently bought themselves Powerbooks. These guys are not the graphic designers and grandmas who were buying Macs at Apple's low point in the mid 1990s. They're about as hardcore OS hackers as you can get.



The reason, of course, is OS X. Powerbooks are beautifully designed and run FreeBSD. What more do you need to know? [link in original]



Then, the Mac exposure came late in the day, when I read Michael Geist's Internet Law News, which had two items about Macs. The first announced the halt of a virus writing competition for the Mac:
Plans to hold a $25,000 competition to write a virus designed to infect the Apple OS X have been scrapped after the company behind the scheme backed down over "legal problems" and complaints from Mac customers. Apple accessories company DVForge announced the competition after security company Symantec claimed OS X was likely to come under increasing attack as Apple's market share in the computer market grew [linked to the original article].
The second told of the Gartner Group warning about the Mac becoming a target for spyware and viruses:
Just a week after Symantec caused an uproar in the Mac community by warning that the OS X operating system was quickly becoming a target for hackers and viruses, Gartner has warned businesses reliant on the Mac to guard against "spyware infestations." Martin Reynolds, vice president of the research firm's Dataquest organization, said last week that although the number of Apple Computer systems used in businesses is relatively small, just one vulnerability exploit could cause trouble [again, linked to the original article].
I don't know what it all adds up to. Hell, I don't even know if I'm done hearing about Macs again for a while or if this is just a momentarily pause in a new blitz of information.
2005-03-30
Alma Mater As Agent of Big Brother
The title of this article from the Washington Post is "Alma Mater As Big Brother" but I think the title above is more accurate, where Big Brother is the Usual Suspect (US). It's yet another good example of the inevitable mission creep whenever such information is gathered by government [via Dave Farber's IP list].
A proposal by the Education Department would force every college and university in America to report all their students' Social Security numbers and other information about each individual — including credits earned, degree plan, race and ethnicity, and grants and loans received — to a national databank. The government will record every student, regardless of whether he or she receives federal aid, in the databank.
I was wrong
I recently worked closely with a fine woman who advised me never to be afraid to say, "I don't know," "I need help" or "I was wrong." It was good advice, applicable far beyond our common arena.
In January, shortly before the Iraqi elections, under the title "Making Florida 2000 and Ohio 2004 look really good", I made this post, mocking the possibility of these elections being anything but a farce. This admission of having been wrong is almost exactly two months overdue.
Spring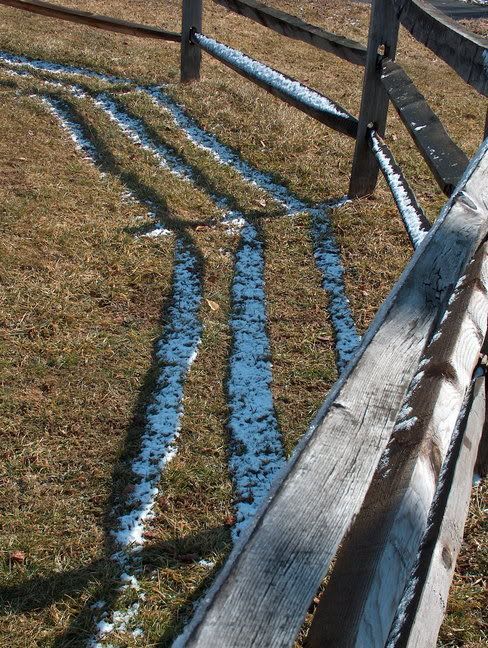 Today is sunny and the temperature is predicted to go up to 62ºF. It finally feels like spring has arrived. A mere three weekends ago it snowed. I wasn't sure it was going to be the last snow of the winter, but now it appears to be so. I took a bunch of photos the next morning. This one's my favorite; click on the thumbnail to see a larger version. As you can see, the sun was warm enough to melt the little bit of snow that fell while the air was cold enough to prevent it from melting.
2005-03-29
Weapons of Mass Deception
From today's issue (link should be available soon) of Stephen Aftergood's Secrecy News:

The Commission on the Intelligence Capabilities of the United States Regarding Weapons of Mass Destruction is supposed to report this week to the President, providing its assessment of U.S. intelligence on WMD and its recommendations for needed reforms.



Considering that the recommendations of last year's 9-11 Commission — notably including intelligence budget disclosure — have been rejected or not fully implemented, one may wonder about the likely impact of the latest Commission.





Several impudent questions about the forthcoming WMD Commission report were posed by myself for the Nieman Watchdog, a project of the Nieman Foundation for Journalism at Harvard University.



Impudent questions? I don't think so. On the whole, they are questions that deserve answers. The only one that doesn't, perhaps, is the last.



Q. Do Bush Administration officials bear any responsibility for their public representations of the inaccurate intelligence assessments of Iraqi nuclear weapons programs? Or was the White House merely an unwitting conduit?



Q. What makes this commission report different from the dozen or so studies that have tackled the intelligence problem in the last decade? Why is it any more likely to produce meaningful change?





Q. Did U.S. intelligence accurately project that more than 1,500 American servicemen and women would be killed in a U.S. attack on Iraq, and many thousands more wounded? If not, do the commission's findings and recommendations address this intelligence failure as well?





Q. In light of the commission's findings, was it appropriate for President Bush to award the Presidential Medal of Freedom to former Director of Central Intelligence George J. Tenet?



2005-03-25
Violation of public trust
This story, from The Guardian, is an egregious example of such violations from the UK. Not because the "attorney general still believed invasion [of Iraq] was illegal less than two weeks before the troops went in." That's an opinion that changed, for whatever reason, good or ill. But because the British government deleted this allegation from a document being released under a Freedom of Information Act request.
The government yesterday tried to suppress evidence that the attorney general believed war against Iraq was illegal less than two weeks before British troops joined the US-led invasion of the country.



It has removed a key passage in the resignation letter written by Elizabeth Wilmshurst, deputy chief legal adviser at the Foreign Office, on March 18 2003, the eve of the invasion.





The remainder of her letter — in which she described the planned invasion as a "crime of aggression" — was released yesterday under the Freedom of Information Act.



The entire letter would have remained secret had not the Guardian published parts of it last month, the FO [Foreign Office] said.
Cold fusion poised for a comeback?
I came across a very interesting article titled "Thirteen things that do not make sense" from the New Scientist. The thirteen things are:


The placebo effect

The horizon problem

Ultra-energetic cosmic rays

Belfast homeopathy results

Dark matter

Viking's methane

Tetraneutrons

The Pioneer anomaly

Dark energy

The Kuiper cliff

The Wow signal

Not-so-constant constants

Cold fusion

If this list doesn't fire your imagination or if you don't immediately click on the link to read the article, you're nothing like me. I was familiar with only 3½ of these, not counting cold fusion, which I thought was ancient debunked history.
2005-03-01
Federal court orders Bush Administration to charge Padilla with a crime or let him go
I've been watching for news of the Jose Padilla case. I've posted on it in May 2004 and in June 2004, twice . The New York Times has latest news.

A federal district judge in South Carolina ruled Monday that President Bush had greatly overstepped his authority by detaining an American citizen as an enemy combatant for nearly three years without filing criminal charges.



The judge, Henry F. Floyd, ruled that the government must release the American, Jose Padilla, within 45 days from the military brig in Charleston, S.C., where he has been held since June 2002. That left the Bush administration time to appeal, and a Justice Department spokesman, John Nowacki, said officials immediately decided to do so.



In his opinion, Judge Floyd sharply criticized the administration's use of the enemy combatant designation in Mr. Padilla's case.



"The court finds that the president has no power, neither express nor implied, neither constitutional nor statutory, to hold petitioner as an enemy combatant," Judge Floyd wrote.... "To do otherwise would not only offend the rule of law and violate this country's constitutional tradition,... but it would also be a betrayal of this nation's commitment to the separation of powers that safeguards our democratic values and individual liberties."

[via Capitol Hill Blue]
Justice (Civil Liberties, so-called Intellectual Property, Privacy & Secrecy); Politics & Government (International, National, State, Local); Humor (Irony & the Funny or Unusual); Science & Technology (Astronomy, Computers, the Internet, e-Voting, Crypto, Physics & Space); Communication (Books, Film, Media, Music & the English Language); Economics (Corporatism & Consumerism); and Items of Purely Personal Note (including Genealogy, Photography, Religion & Spirituality).
---
---
---