H-bombs away over North Carolina: 1961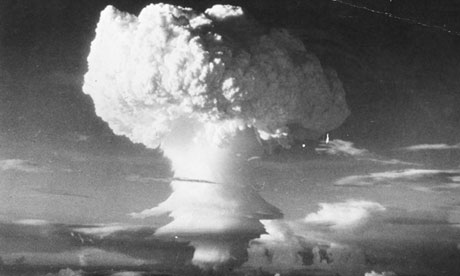 According to
The Guardian
, in a
story
published yesterday, a recently declassified document...
...reveals that the US Air Force came dramatically close to detonating an atom bomb over North Carolina that would have been 260 times more powerful than the device that devastated Hiroshima.

The document, obtained by the investigative journalist Eric Schlosser under the Freedom of Information Act, gives the first conclusive evidence that the US was narrowly spared a disaster of monumental proportions when two Mark 39 hydrogen bombs were accidentally dropped over Goldsboro, North Carolina on 23 January 1961. The bombs fell to earth after a B-52 bomber broke up in mid-air, and one of the devices behaved precisely as a nuclear weapon was designed to behave in warfare: its parachute opened, its trigger mechanisms engaged, and only one low-voltage switch prevented untold carnage.
Justice (Civil Liberties, so-called Intellectual Property, Privacy & Secrecy); Politics & Government (International, National, State, Local); Humor (Irony & the Funny or Unusual); Science & Technology (Astronomy, Computers, the Internet, e-Voting, Crypto, Physics & Space); Communication (Books, Film, Media, Music & the English Language); Economics (Corporatism & Consumerism); and Items of Purely Personal Note (including Genealogy, Photography, Religion & Spirituality).